Avevi l'abitudine di andare ogni mattina a spiare l'arrivo della luce in giardino. Con in mano la prima tazza di caffè, coglievi la fortuna di esistere, di risvegliarti con la natura qui, in questo angolo del pianeta, di rianimarti e di toccare terra, prima di affrontare lo sforzo di vivere… Respiri avidamente il giorno nuovo, inedito, e capisci che questo, niente più di questo, rappresenta ancora la felicità: bere l'aria scura.
(Colette Nys-Mazure)
C'è aria ovunque qui, che se non fai attenzione a dove lasci cadere i tuoi respiri distratti ti ritrovi disorientata e silente come segreti depositati tra le pieghe nascoste di un cappotto. Dodici gradi. Aria fredda che si confonde con il sole tra i capelli. La voglia di fare, senza fermarsi nemmeno a prendere fiato. Di stancare le gambe, ed i pensieri. Di sentirle volare, leggere. Senza il sussulto di un rimpianto, senza sogni, ambizioni e progetti  da disfare come gomitoli di lana, per tutti gli inizi che altro non sono se non ciò che segue ad ogni fine. Mescolando le carte e sovvertendo l'ordine delle priorità, i vestiti nell'armadio, righe e pois, pelle e seta, grigio e terra bruciata, parole con i baci e baci con i silenzi. E ancora, bagliori d'argento disseminati qua e là come piccoli punti luce perché a me, la luce, è sempre piaciuta soffusa e discreta. Ed il proposito di mettere in ordine tutto quello che un ordine non ha. 
There is air everywhere here, and if you're not careful where you drop your breaths you find yourself confused and silent as deposited secrets hidden in the folds of a coat. Twelve degrees. And the cold, winter air mixed with the sun in your hair. The desire of doing, even without stopping to take a breath. Of tired legs, and thoughts. To hear them fly, light as the wind. Without the jolt of a regret, without dreams, ambitions and plans to undo as balls of wool, for that all beginnings are nothing if not what follows each end. Shuffling the cards and subverting the order of priorities, the clothes in the closet, stripes and polka dots, leather and silk, gray and earth tones, words with kisses and kisses with the silences. And yet, silver glows scattered here and there like little points of light because I always liked a soft and discreet light.  And the purpose of tidying everything that actually has no order.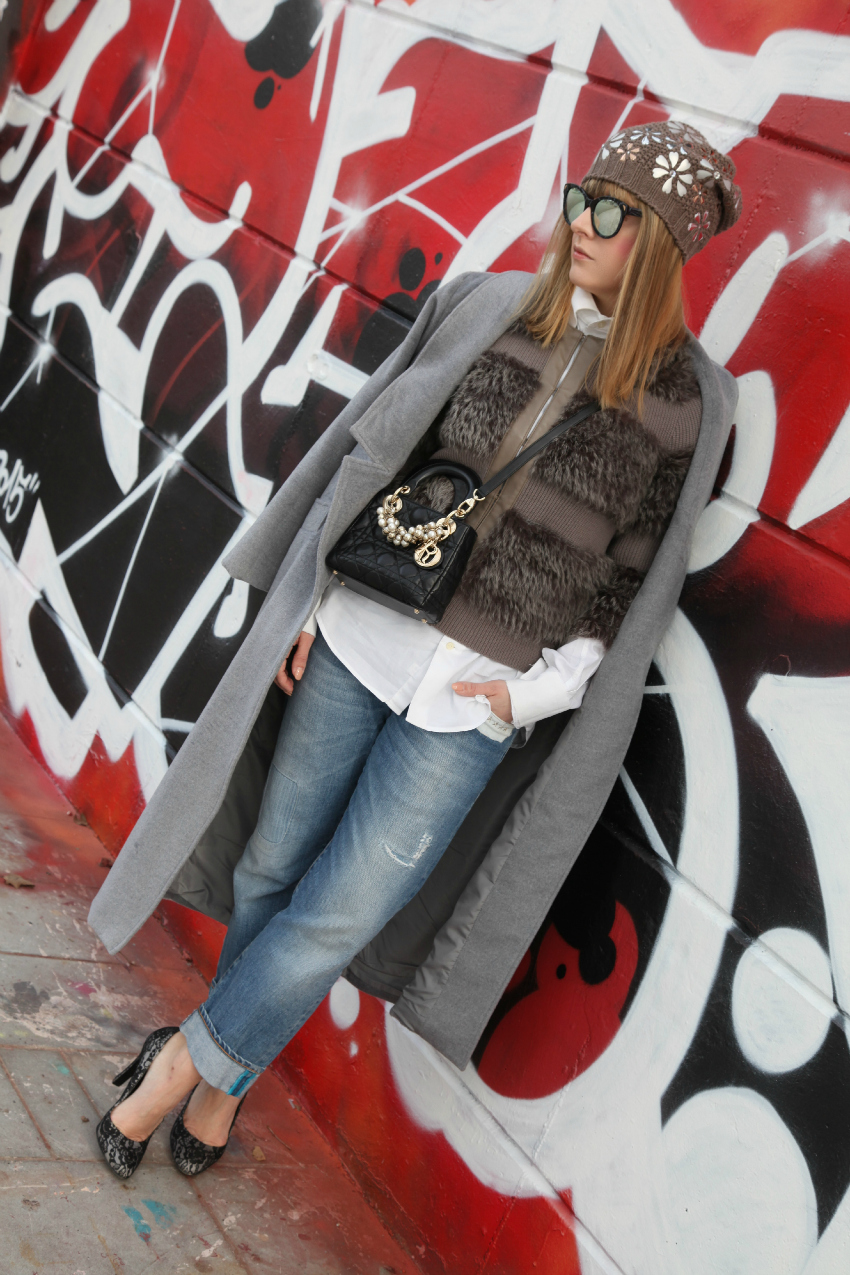 FAKE FUR JACKET PINKO ( old)
JEANS 2W2M
BAG CHRISTIAN DIOR
SUNGLASSES HYPE
BEANIE CUFFIE REGINA
COAT SHEINSIDE
SHOES STELLA MC CARTNEY